English

Deutsch
visitors pictures download terms of use contact
What is ipChart?
ipChart is a virtual flipchart without fl but with IP =;-)



ipChart is a shared whiteboard that makes it possible for groups up to 7 people to work together on a draft, each one on his own PC, connected by an IP-network.



ipChart enables computer supported cooperative work (CSCW) very easy and cheap.



ipChart is the ideal tool for designing drafts in a distributed workgroup in addition to other ways of communication like phone conference, video conference, etc..



ipChart is very 'smart':

- easy starting (without installation, only doubleclick ipChart.exe!)
- starts very fast
- is immediately present whenever you need it
- needs very few resources (e.g. memory)
- is very cheap (5 EUR or 5 $ for each installation on a PC)
- vector oriented grafic commands: fast exchange also over slow networks


ipChart has an intuitive user interface, no training necessary. Easy learning by doing - simple play with ipChart and try out the different functions, and in a few minutes you will be familar with it! You may start with your first drawing immediately. Click on the "listen"-button, setup IP-adress of your tele conference partner(s) and click on "connect": You will be directly connected and can work productively with your team. Your drawing will be transmitted to each team member automatically at the same moment when the connection is established!



ipChart is easy to be integrated into bigger systems, because ipChart can be controlled from other applications via the simple remote control protocol ipChart-RPC. So ipChart can be integrated seamless into a complex CSCW-solution.



ipChart is flexible: It starts with a small compact windows for your first draft. If you need more space, you may resize the drawing area by dragging the border with the mouse.



ipChart's drawings can be exported to other applications simple by copy and paste. So you can easily document the results of your teamwork in text-documents, presentations and so on...



ipChart saves time and money and enhances the efficiency of communication in distributed teams.



ipChart is "helpful": Simply point with the mouse to a control, and after a short time tooltips will appear.



ipChart may be customized and extended by the author: e.g. more participants, new drawing functions, corporate design... please contact info@ipchart.de and tell me your requirements.



ipChart is a good sample application written in VisualBasic for Windows (both are trademarks of Microsoft!). The completely commented (in german!) sourcecode is available by the author and may be used for self-learning and teaching how to program distributed applications over IP-networks.
Screenshots from ipChart
The Working Sheet
Here you can draw and see, what the others are drawing: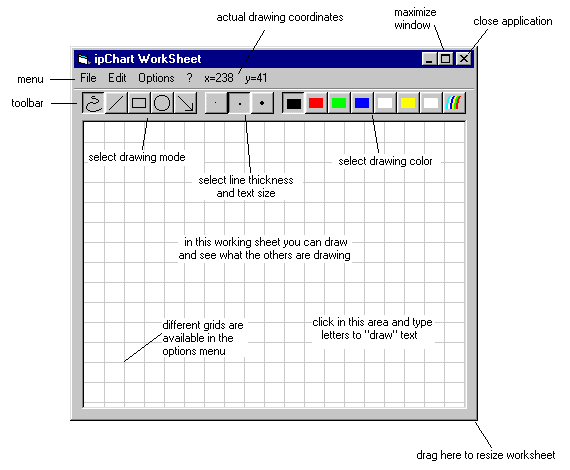 Drawing text...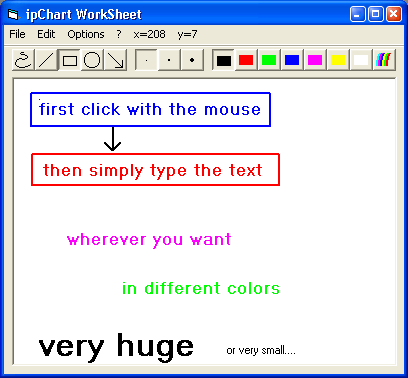 The Connections Control
Here you can establish connections to other participants and close connections: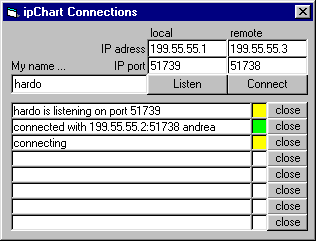 How to connect ipChart instances
At the beginning every member of your team should press the "Listen"-button in the "Connections" dialog in order to be able to receive connections from the others. ipChart reacts with the message ".. is listening on port .." in the first connection bar.

When every participant's ipChart instance is listening, you may type in the IP-Adress (or simply the name) of another team member into the "remote IP adress" field of ipCharts connections dialog and then click the "Connect"-Button.

ipChart is using the name from the windows network identification. You can define this name in systemcontrol:network:identification.

After a short time a small green square in the "Connections"-dialog will display that the connection to your partner is established.

Now you can continue to connect your computer to the next member of your team, until every member is connected exactly over one connection to each other.

Use one of the "close"-buttons to close a specific connection.


Normaly you won't need to change the port-entries. But maybe, when a port on your PC is not enabled or is aready in use, then try to change the port. Your remote port entry must be the same as the local port on which your partner is listening.


Download-Area
Here you can load all necessary files to your PC:

If ipChart won't start on your PC, maybe you need one of the following files: If you would like to take control over ipChart's connections from your own application, then (and only then) you have to read the following document:

Terms of use
ipChart is shareware.

It is free of charge to test, copy and give away ipChart (completely and unchanged), but if you want to use ipChart, please send 5 EUR or 5 $ per installation on a PC to the author, simple in an envelope adressed to:

Hardo Naumann
Nienburger Str. 14
D-31552 Rodenberg

ipChart is as it is; only for use at one's own risk. No warranty, no liability!

With your download you will accept this terms of use.

I hope you will enjoy ipChart and it will be useful for your work!

Rodenberg, 07.04.2003

Hardo Naumann


---
Contact
This is a private website of
Dipl.-Ing. Hardo Naumann
Nienburger Str. 14
D-31552 Rodenberg

You can easily contact me via mail to info@ipchart.de.


---





some links:
private homepage Dipl.-Ing. Hardo Naumann, software development and consulting
ipChart - the virtual flipchart: shared whiteboard groupware CSCW
AKH - famous accordion orchester in hanover
EBÜS, das Einheitliche Bild-Übertragungs-System der Firma Accellence Technologies